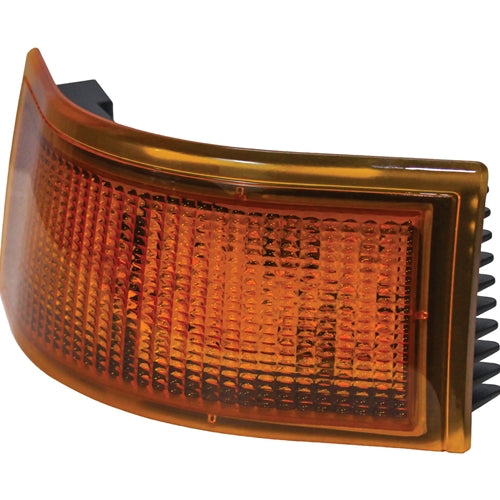 John Deere 7000 - 9020 flasher
---
Share this Product
---
PRICED EACH
Complete plug and play replacement LED Amber Light for the Left-Hand or Right-Hand Front and/or Rear Cab Corner Light on John Deere® 7000, 7010, 7020, 8000, 8010, 8020, 8000T, 8010T, 8020T, 9000, 9020, 9000T or 9020T Series tractors, or sprayers.
These lights have filters that will eliminate unwanted radio and electromagnetic frequencies from external sources. Their die-cast aluminum housing/heatsink gives them long-lasting durability for a high quality and long service life. Aluminum housing is specifically designed to dissipate heat away from the internal electronics, which increases light output and improves performance. This light is designed to handle any severe environmental condition.
Features:
Tiger Lights TL8045 Light
8.75" x 4" x 3.5" (W x H x D)
Amber flashing/flood beam pattern
Amber light: 18W + 12W resistor
Amber light: 2.4 amp draw
18 watts
1.5 amp draw
Input voltage: 12-Volt to 24-Volt
Plug and play wiring for easy install
Will flash with original factory relay
Includes connector and hardware
Replaces left-hand or right-hand front cab corner light on John Deere® 7000-7010 Series tractors, and the left-hand or right-hand front or rear cab corner light on John Deere® 7015-9020 Series tractors.
Manufacturer's Limited Lifetime Warranty
Please Note: New design that will replace the left-hand or right-hand side featuring aluminum housing and built-in resistor.
---
More from this collection