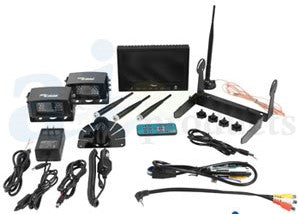 CabCAM Video System, Wireless
---
Share this Product
---
The A-WL56M2C CabCAM WiRELESS System. The camera system comes with one 7" wide-angle color LCD monitor and two wireless 1/3" color CCD cameras. The 2.4 Ghz wireless system has a 200 yard barrier-free transmission range. The WL56M2C wireless system supports 12V automotive battery power allowing for easy installation. The WL56M2C wireless system can also be expanded to four camera capability.
200 yd barrier-free transmission range.
7" TFT LCD Wide-Angle Color Camera: High Resolution monitor with antenna. Four camera capability 2.4GHz wireless receiver with four channels. Supports 12V automotive battery.
The monitor includes: power indicator, remote receiving window, POWER button, MENU button, SEL button, channel selection, loudspeaker, support attaching slot and power supply terminal.
(2) 1/3" CCD Weatherproof Color Camera: One Channel 3 and one Channel 4 camera. Infrared Illuminators allow up to 32 feet of night visibility, image mirroring function, made to withstand off-road conditions, audio capabilities.
Each camera has an antenna and a power supply jack. Monitor works with 12 & 24 volt systems & cameras work with 12 volt systems but will require the AD520 voltage reducer for use with 24 volt systems.
Accessories: Base-Mounted Remote Antenna with 9.75' cord, Ball Swivel Mounting Bracket with Mounting Pad, U-Support Mounting Bracket with Thumb Screws, 6 Pin Power Wire Harness with Jack for AC/Cigarette Lighter/DC Adaptor, AC Power Adaptor,
Automotive Power Adapter, (3) 3.25' DC Adapters, Sunshield, RCA Cable, Full-Featured Remote Control.
This system can be expanded to support up to four cameras.
---
More from this collection